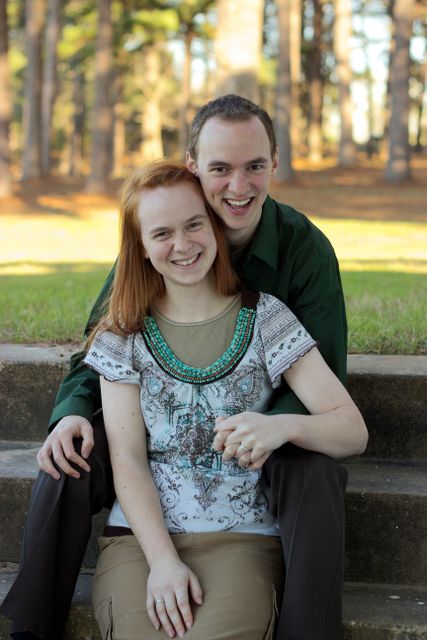 Welcome!
Greetings from Benjamin Cahill and Marina Hicks! God has been so good to us, and we want to share how He has worked in our lives and brought us together. Note the wedding details below, and then join us on our journey through the pictoral story following.
Details
Date: May 14, 2016
Time: 2:00 p.m.
Place: International ALERT Academy
1 Academy Blvd.
Big Sandy, TX 75755
Reception: Following the ceremony at the ALERT Chapel
Housing: ALERT has housing available that is detailed in the "Guest Lodging" section of this page on their website.
Call (903) 636-2000 ext. 2101 to reserve a room.
Longview and Tyler are also within easy driving distance.
RSVP
Click the link below to RSVP online:
Feel free to call Benjamin if you have any questions:
(903) 263 - 0638
Registry
Click the links below to view our online registries:
If sending packages, mail them to:
Benjamin Cahill
1 Academy Blvd.
Big Sandy, TX 75755
Map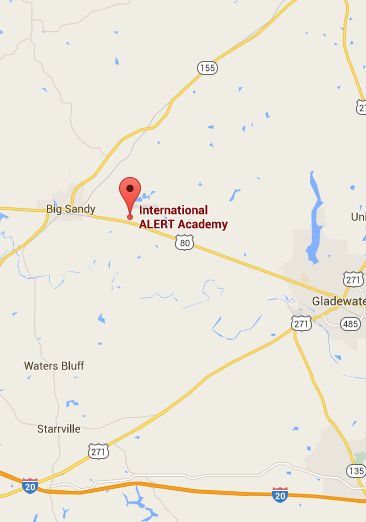 Marina
It started when I decided to volunteer at ALERT while my brother went through Basic Training there. It's funny because I had heard about this guy before I ever met him. Everyone knew him, and they either liked him or thought him an oddity. Naturally I got curious, and when I finally met him, I thought he was the most interesting person I had ever met.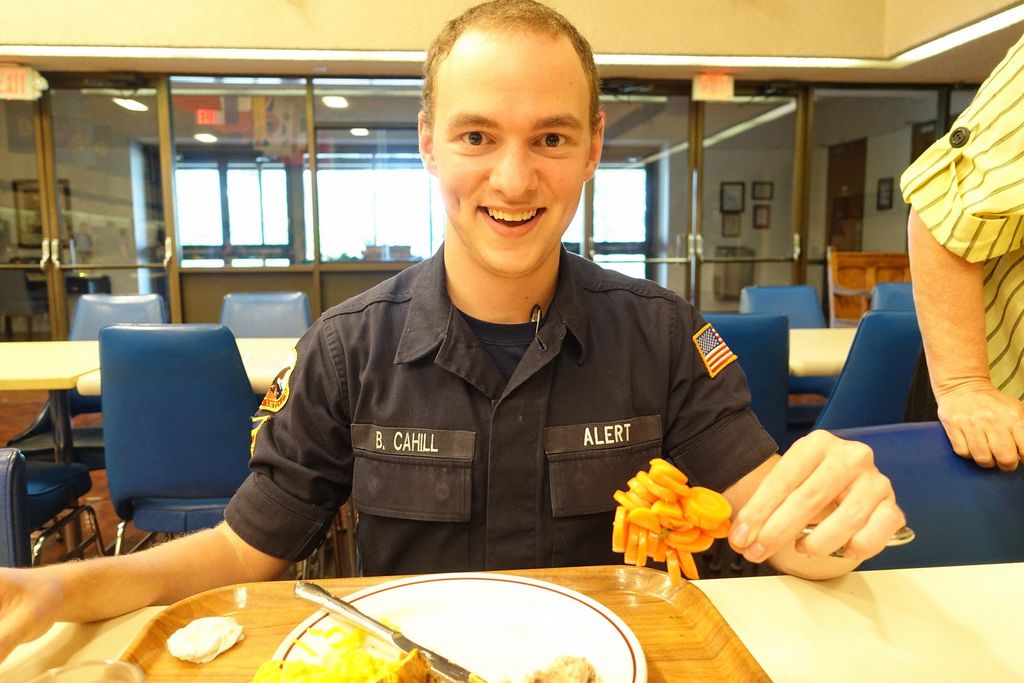 Actually, the first time we had a conversation, I was a bit worried because I thought I was being interviewed! He was asking deeper questions than anyone I had ever met (outside of my mom and dad). After seeing him interact with other people I realized that he did that with everyone, and I was able to relax when we conversed. After having a few two to three hour conversations with him I knew there was something different about this man. I had never been able to so freely converse with any guy except my brother like this.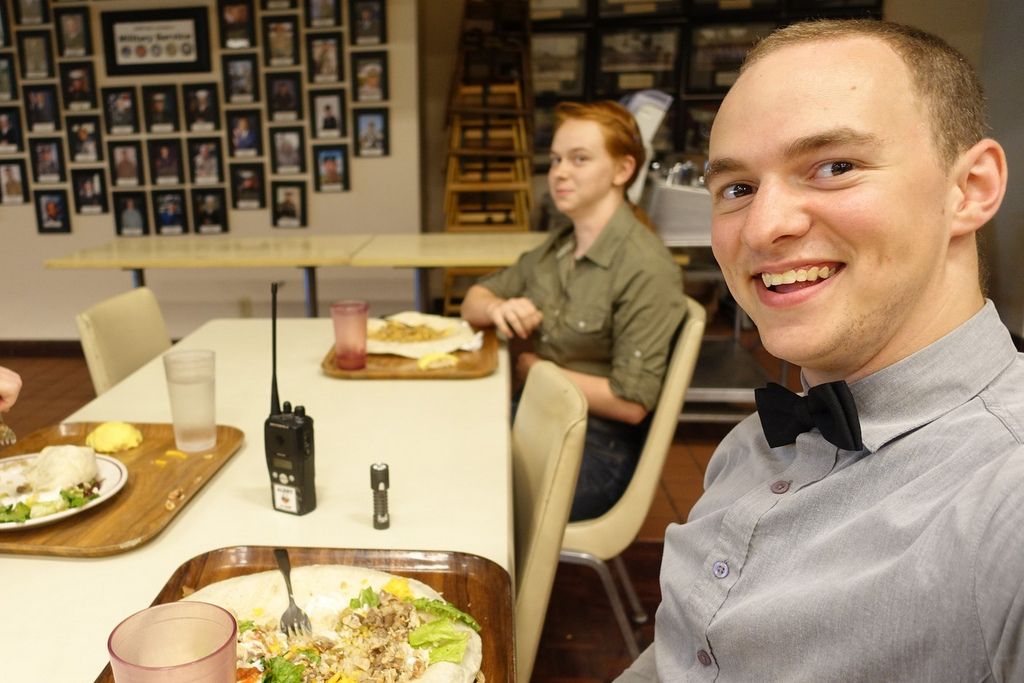 Benjamin
I remember having interesting conversations with her around mealtimes, but I never thought much of them. When I met her family, though, everything changed. The evening before her brother Zach's advancement from his ALERT Basic Training, her family was eating at the ALERT Dining Hall. I noticed them and decided to join them for dinner. I loved her siblings and conversing with her mom and dad, and I ended up spending most of the evening with them. Her family felt so natural for me to be around, and I spent more time with them that weekend. I remember strongly desiring to go with them when they went on a family errand, which was odd for me. I got their contact information before that weekend. Little did I know that God was working in all of this to bring me into this family.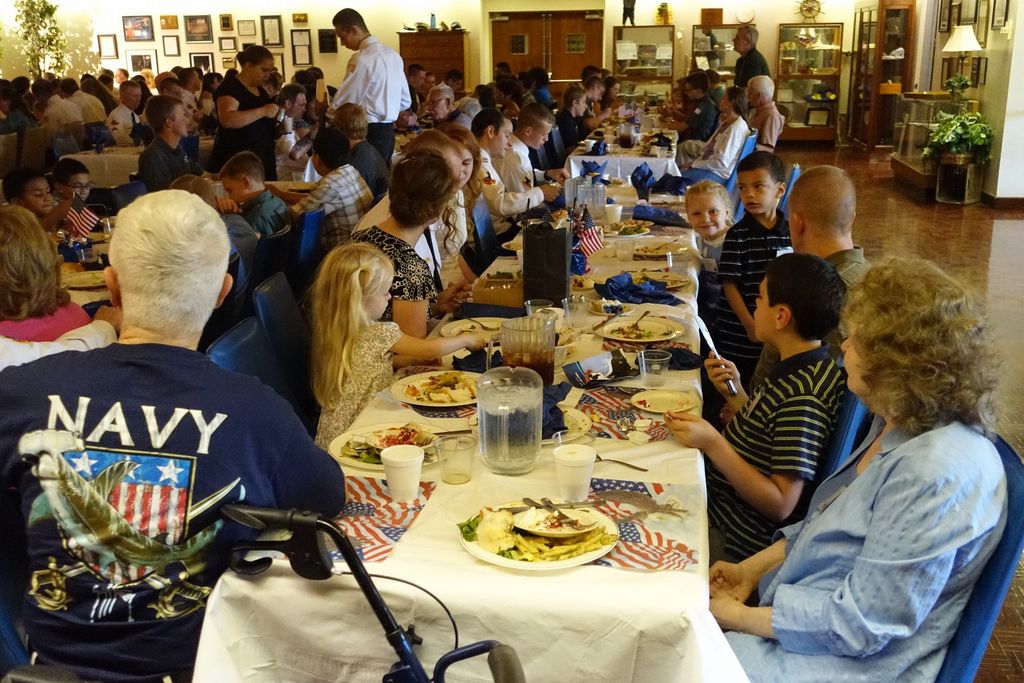 Marina
Once he met my family I knew he was special. I distinctly remember a certain instance when we were all at the Dining Hall and he carried my baby sister Faith (3 yrs. old) all the way to the other side without her panicking. She would never let anyone do that ordinarily. And when I walked over to get her she hid under the table. He scooped her up and she held on so tight that no one was going to get her away! That was unheard of! Then Mom and Dad started inviting him and his brother over on Sundays. (I later learned that Mom had felt like God was telling her that she needed to love him like a son.)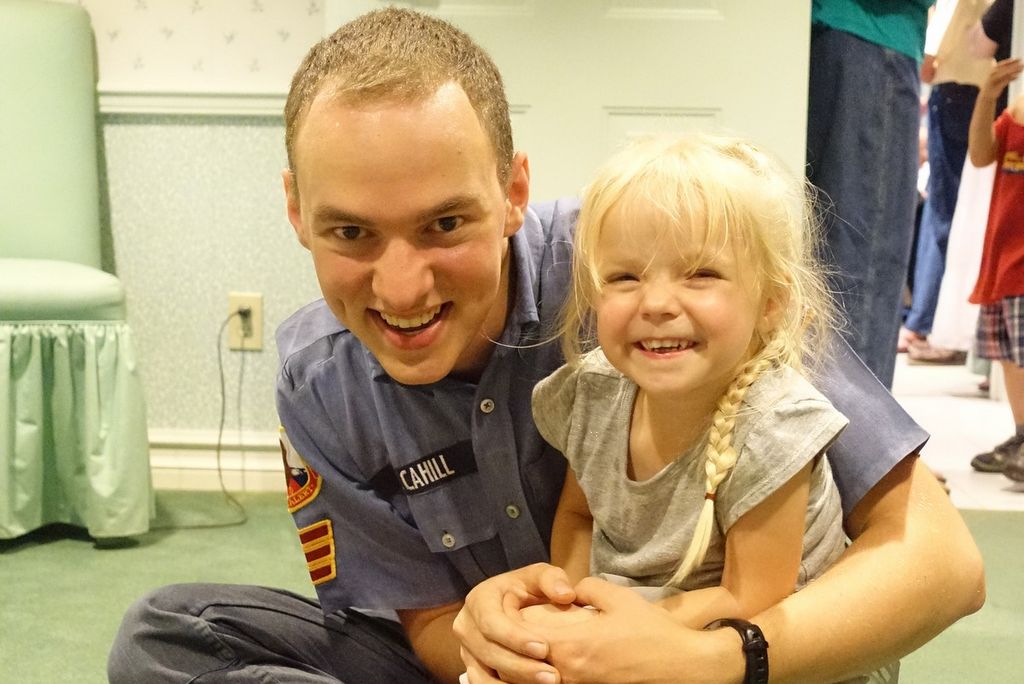 At this point I had started to develop feelings for him but I was trying to discern if it was the Lord or just my silly feelings, so I didn't tell anyone but prayed.
He was so different when he came to our house than when he was at ALERT though.
He was very quiet. I had told my parents that he was quite the talker so it came as a surprise to all of us when he would go a whole visit speaking only the occasional sentence. That is when my parents decided to email him and ask him why. That was the start of a correspondence that I will let him tell you about.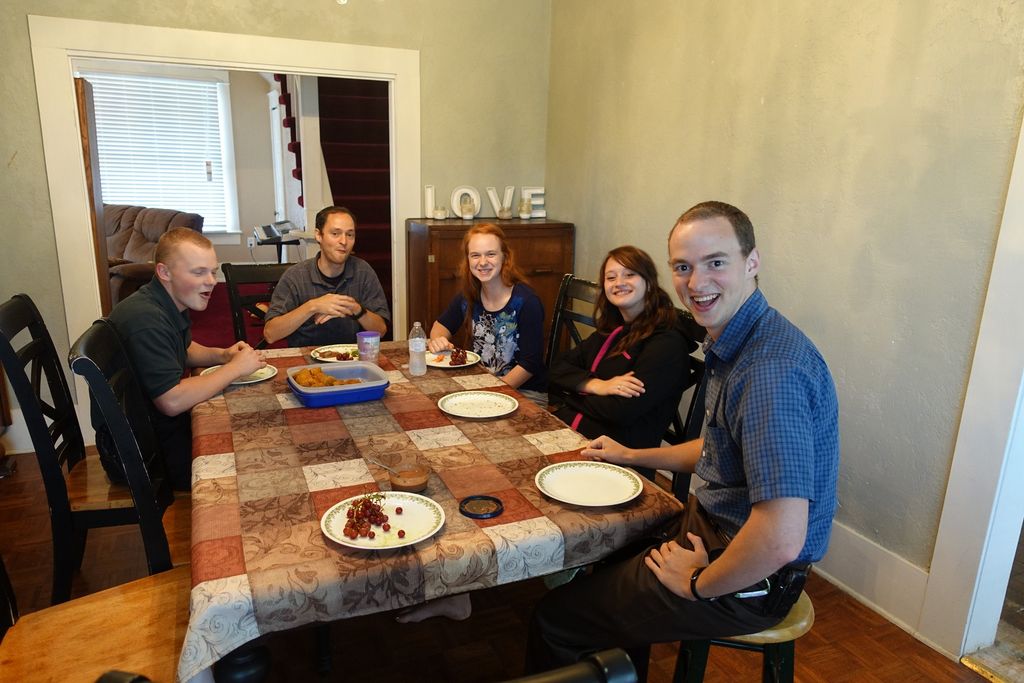 Benjamin
When my brother and I began going over to her family's house, I was challenged in many areas. Over the preceding couple of years, I had realized the importance of being real with myself and others—not hiding behind a mask. This family was very real in their words and actions and their love for God and His Word were very evident. I had never had a very close relationship with God, and her parents began a series of email conversations with me that strongly challenged me.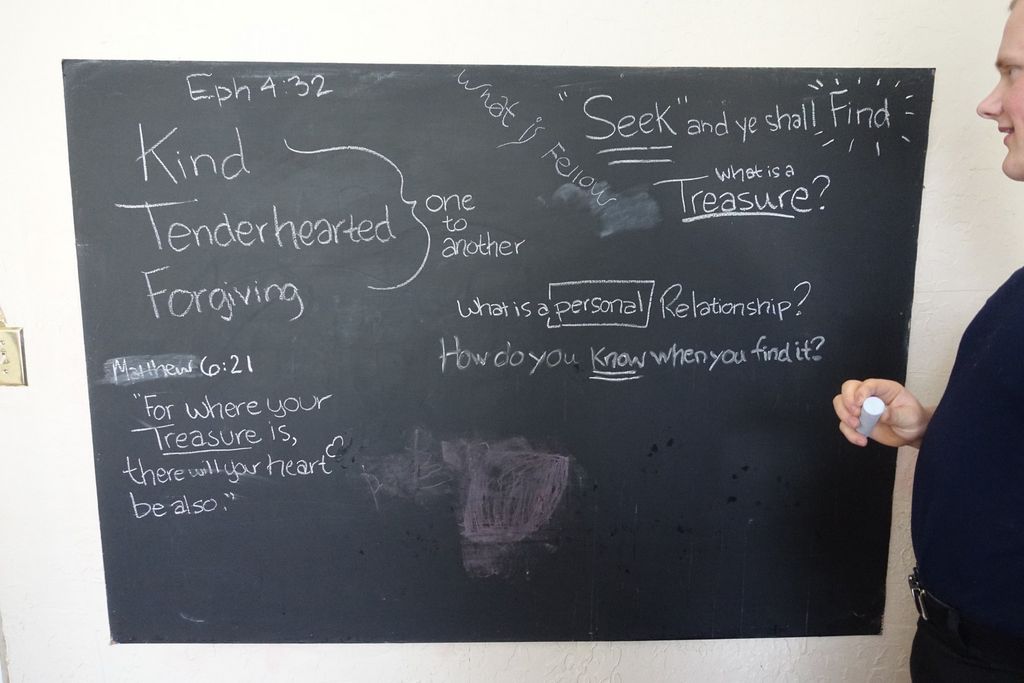 Marina
Then came July; my 20th birthday party was coming up and we wanted to have a fun photo booth so Mom asked Benjamin if he would be our photographer since she knew he loved photography. That was the first time I had a feeling that he may have liked me back, though I quickly dismissed it as silly. And in August I got the chance to go on a month long, cross country road trip. During that trip I decided to pray for Benjamin. More specifically to pray that if I wasn't supposed to feel the way I did about him that God would take the feelings away. They never went away so I certainly started to wonder if God was in this.
I remained in a state of wondering and hoping. I took this time to pray for him a lot, his spiritual walk, his future family, etc.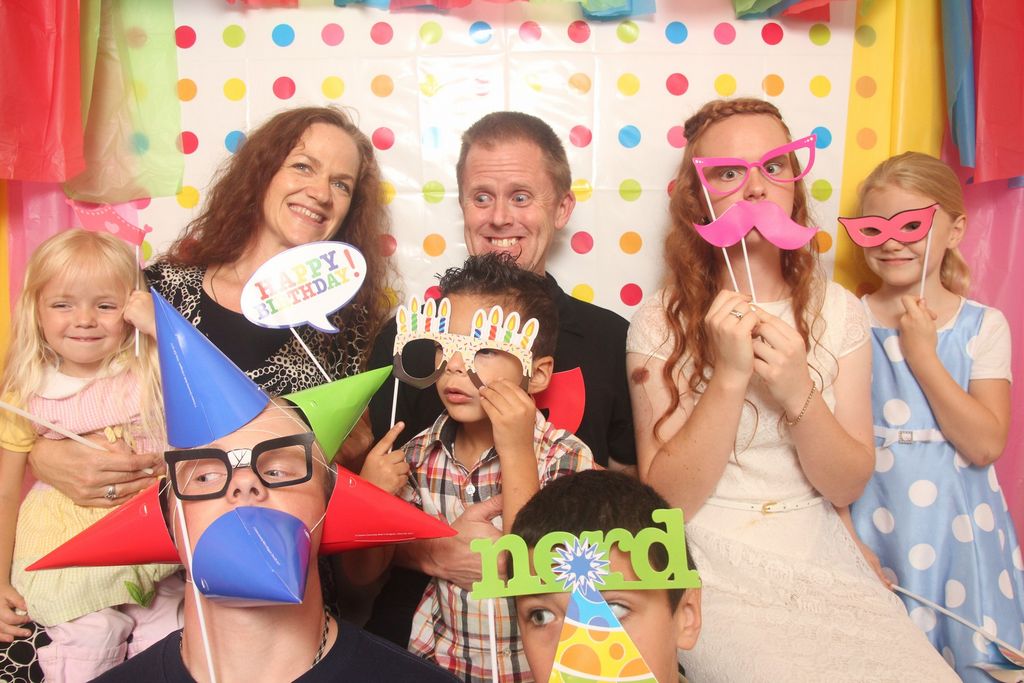 Benjamin
During September, I began to think about the possibility of marriage with her. Yes, I'm very slow about these things! I do think it is amazing, though, how God orchestrated our relationship so that I became close with her entire family before I even thought of marriage with her.
Through September and the beginning of October, I saw so many areas in which she was perfect for me. Talking with her was unlike anything I had experienced before. I felt completely comfortable talking about anything with her. Also, we noticed that we could communicate even without words, with just a look across the table. We also worked together incredibly well. I, normally a cautious perfectionist, found it natural to trust in her completely from the beginning. Most of all, her walk with God was intensely real and personal. Seeing her lasting patience and trust inspired me greatly. In so many ways, her family and I were traveling along the same path and helping each other, like "iron sharpeneth iron." (Proverbs 27:17)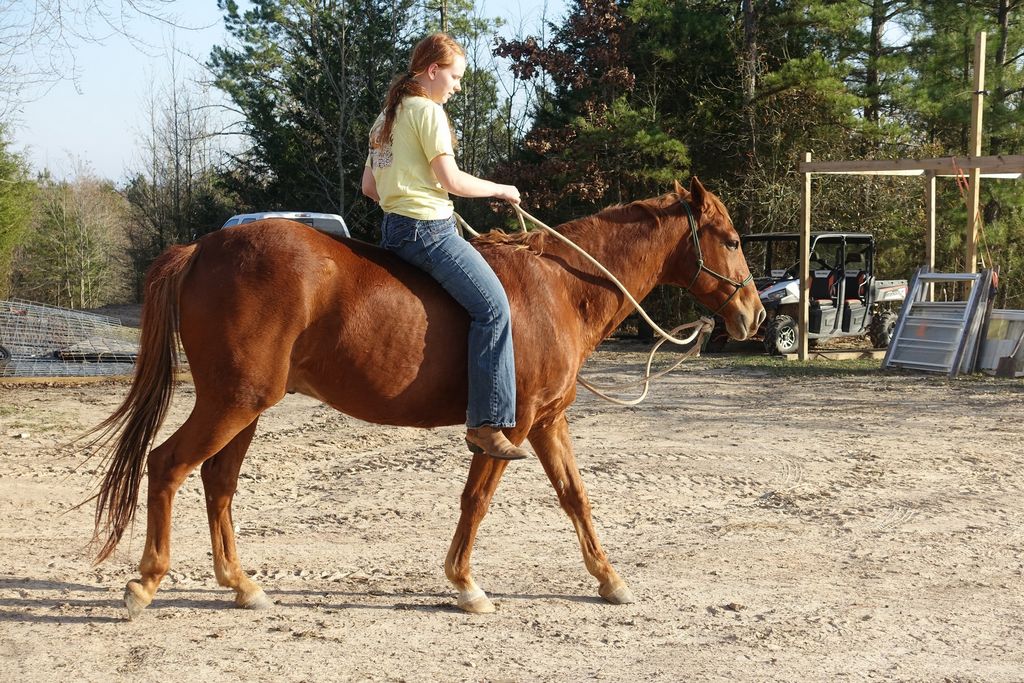 Marina
Then during a camp my family attended at ALERT, something seemed to change. He was starting to sit with me and my brother a lot before that but during the camp he was eating every meal with us. One time my Daddy realized that Benjamin was going to sit with us and gave up his seat next to me for Benjamin. I could sense that something was different.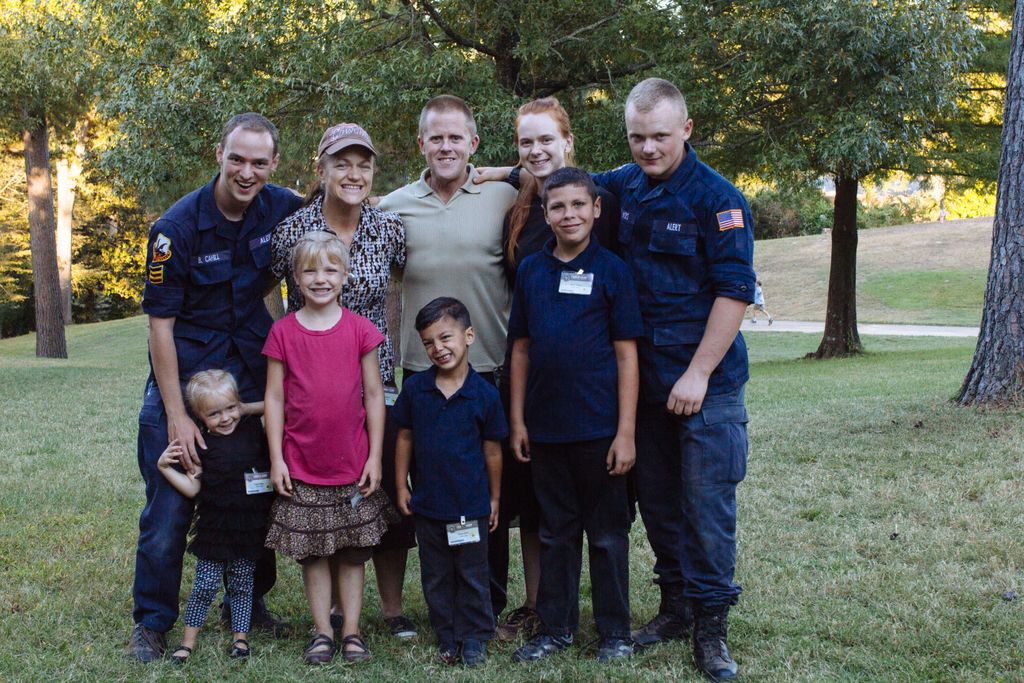 On the final night of the camp he came to our campsite which was not unusual.
What was unusual was the fact that he was being so quiet again.
Finally at around 2am in the morning he got out what he was trying to say. He had asked my Dad and he wanted to pursue a relationship that would lead to marriage! All I could say was "finally"! Lol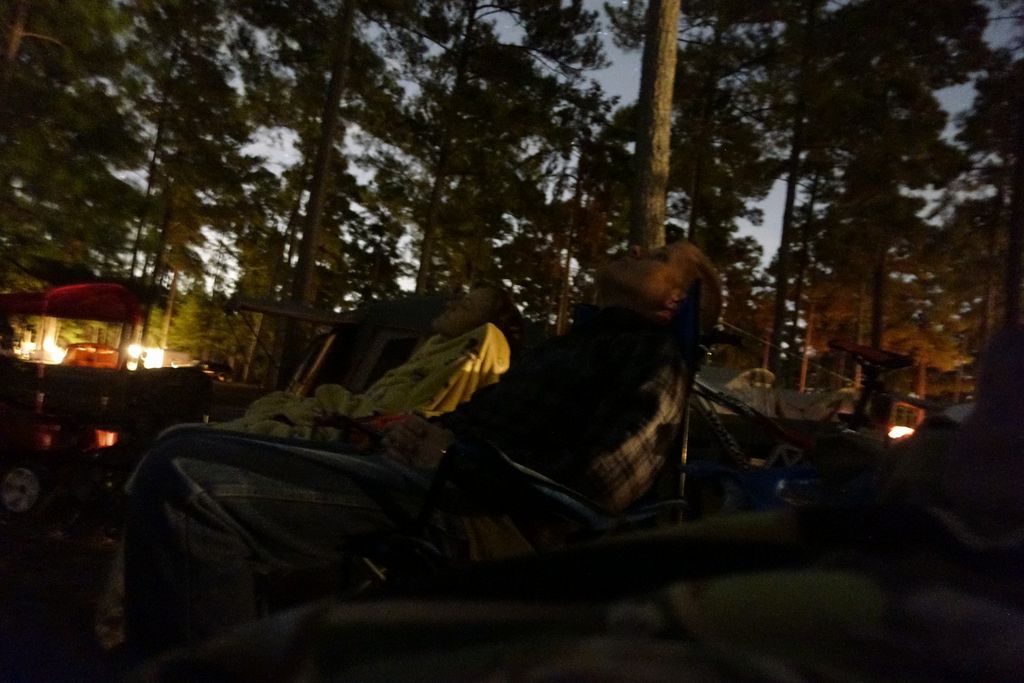 Benjamin
God was working deeply in my heart this whole time, and through continued emails with her parents, He prepared me in many ways for this huge transition in my life. During the week of the camp her family attended at ALERT, I asked my parents for their approval and her father for permission to pursue her for marriage. By the end of the week, I was ready to take the next step.
In the middle of the night on the last day of the camp, I told her of my desire to pursue marriage with her. She had been waiting and hoping for this for a long time, and she was happy it was finally here. I told her I wanted to spend the rest of my life with her, and she said she had waited twenty years to hear that. We sat next to each other and looked off in the distance. I was very excited to be starting this next chapter of my life!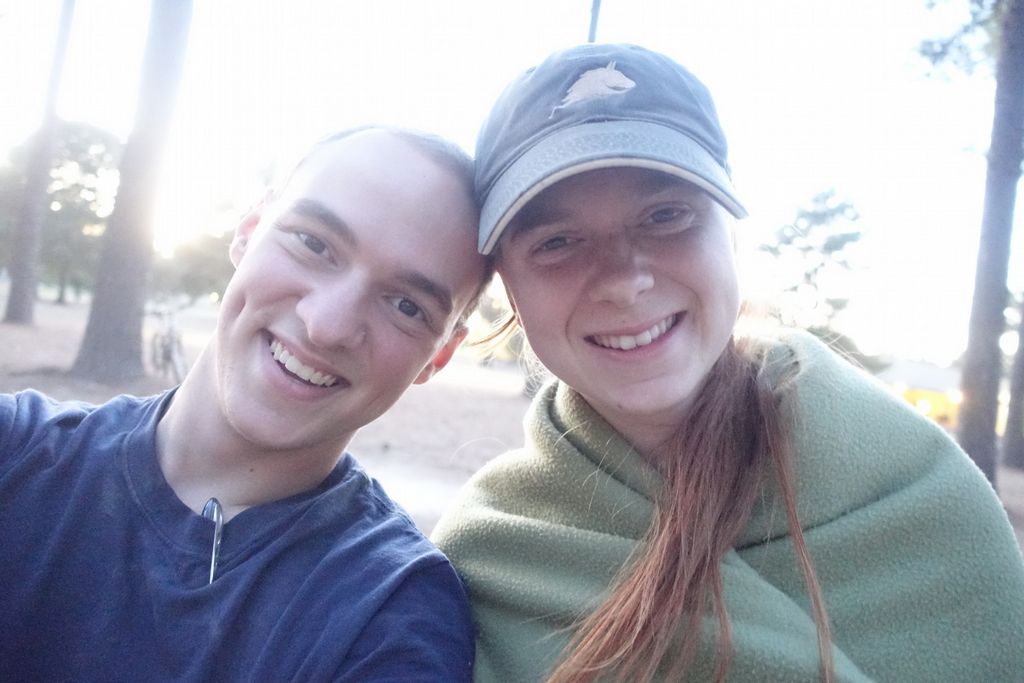 Marina
It was actually hard for me to let myself fall in love at first because I had kept myself from it for so long. Courtship was a great time to get to know him much better with lots of phone calls and emails! I am falling in love with him more everyday!
Benjamin
After I began courting her, our relationship grew very quickly. I had never been in a relationship before, so it was a new and exciting experience to inform others of this development in my life!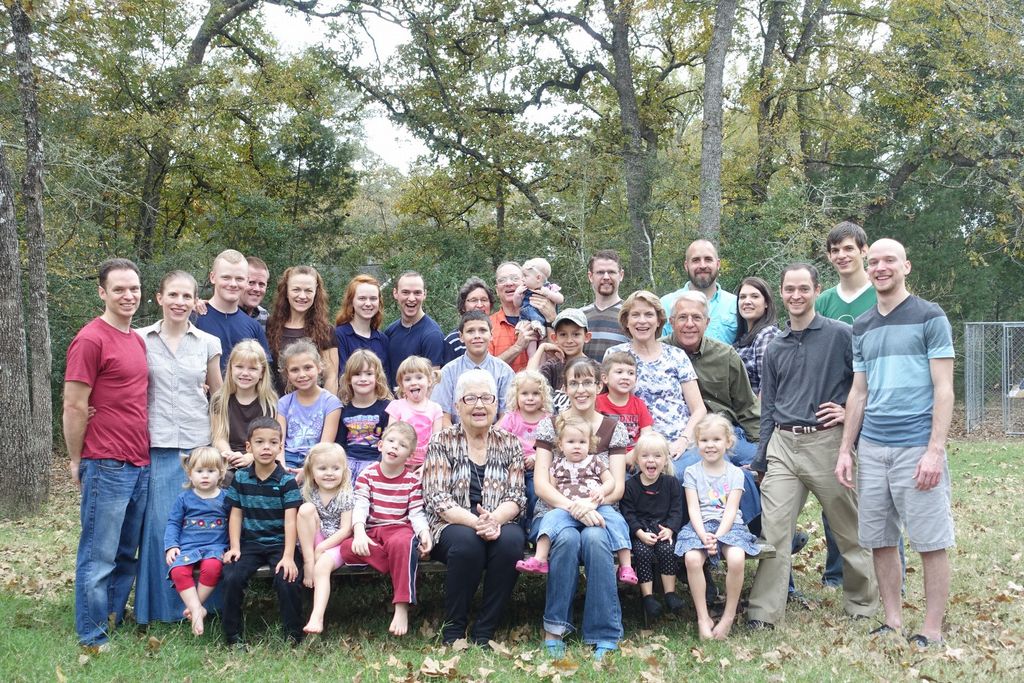 Courtship was a very intense time for me spiritually. God had not been first in my life, and He brought me to the place of complete dependence on Him. Only after that was resolved in my life could I move forward into this next phase of life.
I knew that I wanted my proposal to her to be very special. I had actually planned what I would do before we even started courting. One of the really neat ways God worked was through the weather. It was getting later in the year, and I knew it wouldn't have been as good of an experience for her if it was cold. Well, I proposed on December 26th, and it was 77°!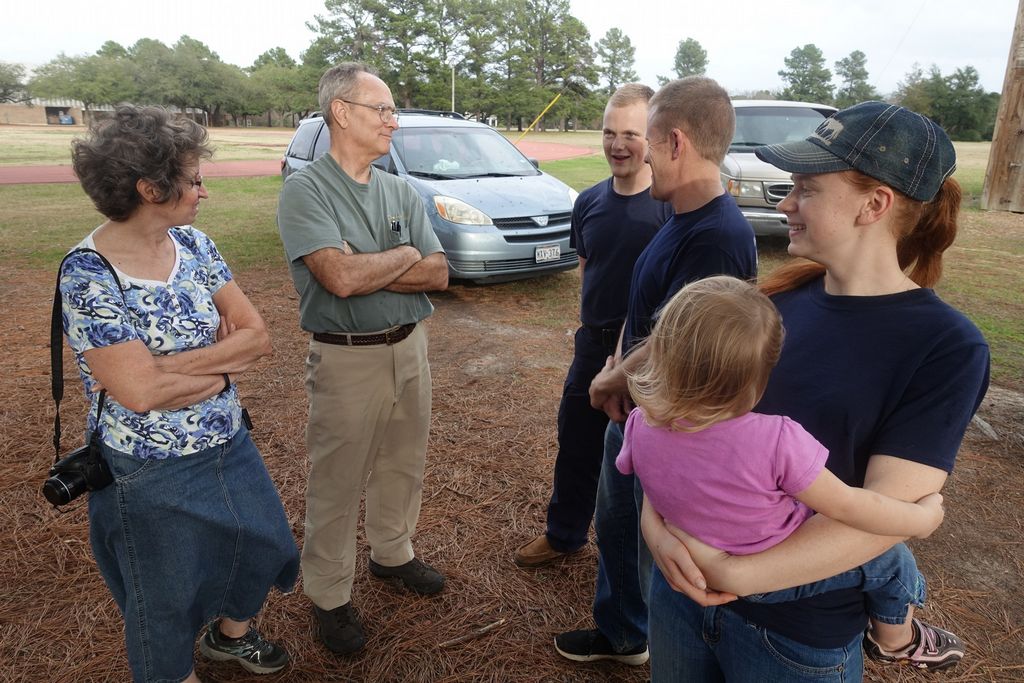 Marina
Well, I knew engagement was coming soon but I never suspected that it would be that day! It was the 26th of December, my brother and sisters birthday. He had called in the morning (as usual) and somewhere in our conversation he had mentioned something about finalizing plans for the day. I remember that the way he said it made me want to ask more questions but I decided to leave it alone since I reasoned that it probably had something to do with his family being in town. Later that morning he texted me and said that he and some of his family were going to go rappelling at the ALERT tower and asked me to see if my family and I could come too. I asked Mom and Dad and they readily consented. The whole time I was thinking what a great surprise it was going to be for the kids!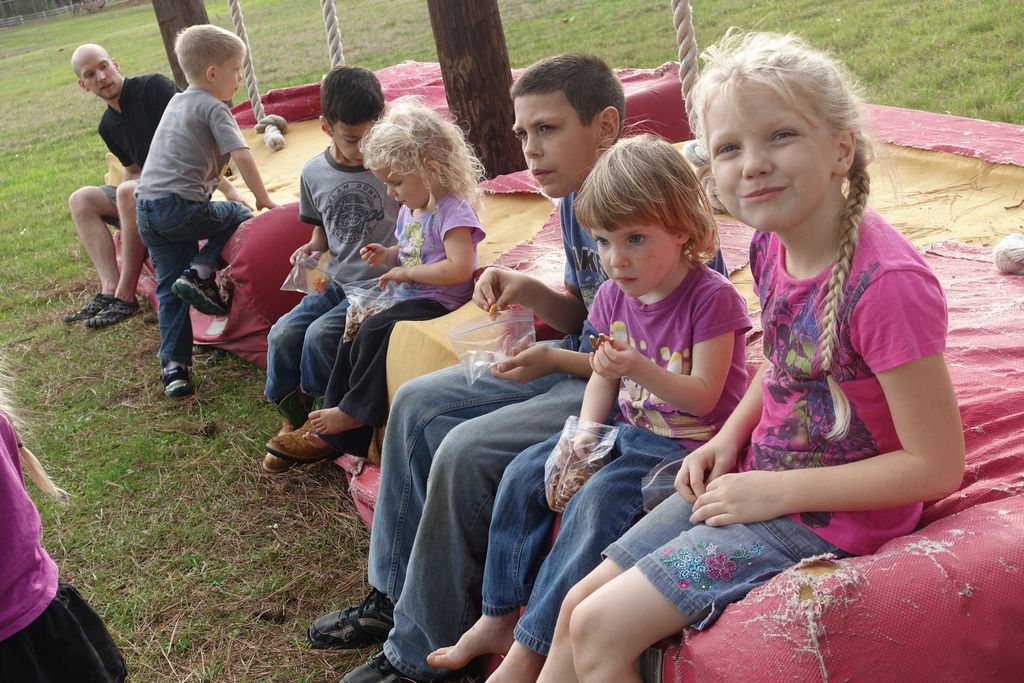 Once we got there Benj helped me get harnessed up and up we went! He taught me how to tie off so we could be hands free on the tower. We went up and down a few times and I suspected nothing. The last time we went down everyone was yelling up that it was almost time to leave. We tied off again and he taught me how to spin around. Then we paused for a moment and I figured we were supposed to just leave. Then he starts reaching into his pocket and saying how much he loves me and wants to spend the rest of his life with me! All I could say was "are you serious?" (As you can tell I really have a way with words in those kinds of situations!) He then asked me to marry him and I said yes!
I found out later that everyone was yelling at him because they thought he was going to get cold feet!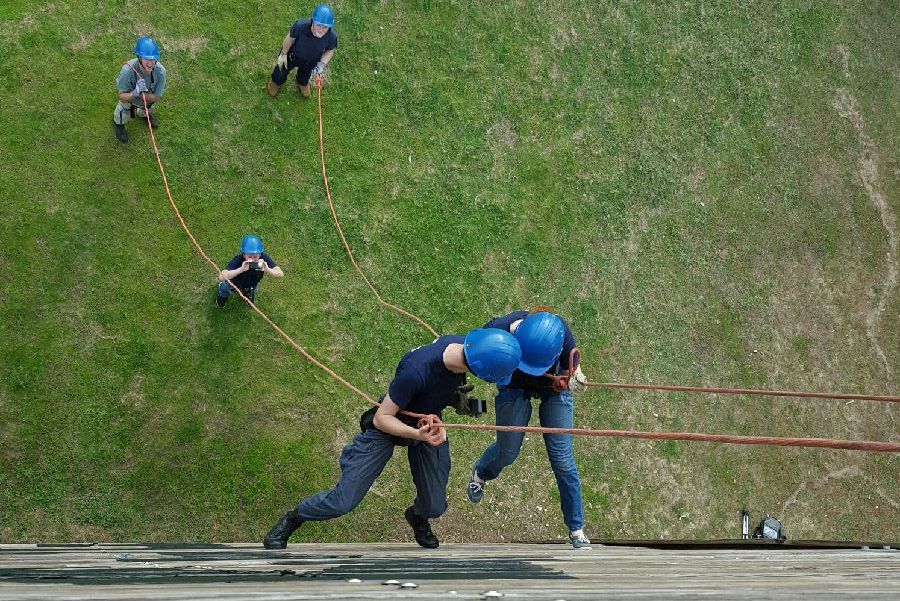 Benjamin & Marina
We can't wait to see where the Lord will direct us in this next stage of life!
Pictures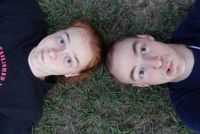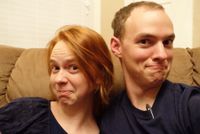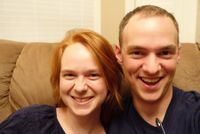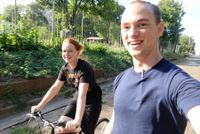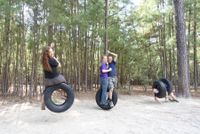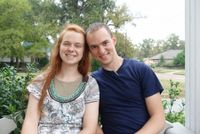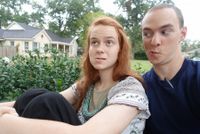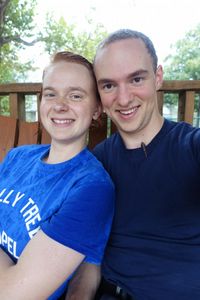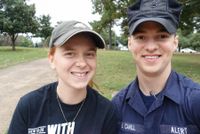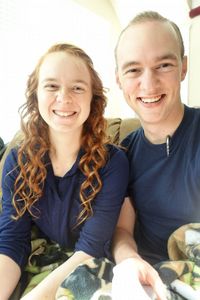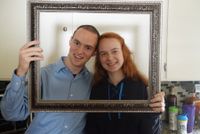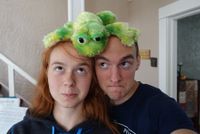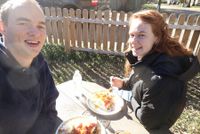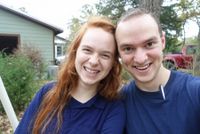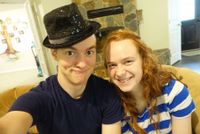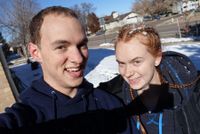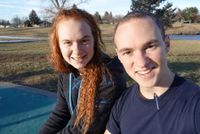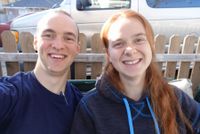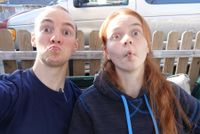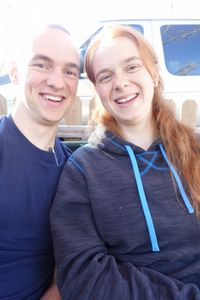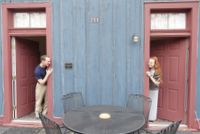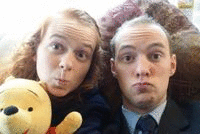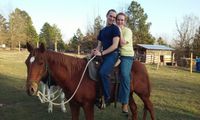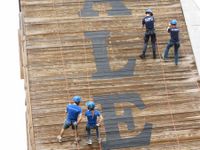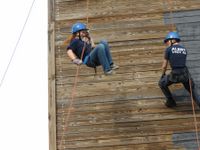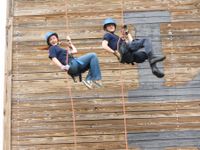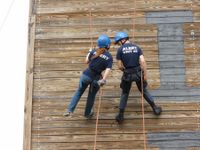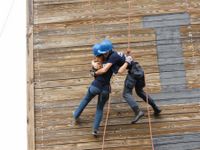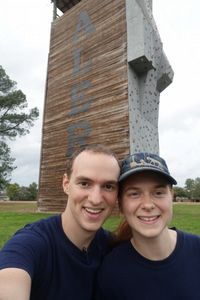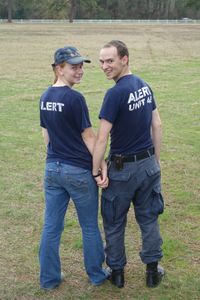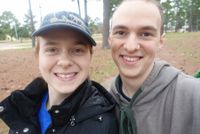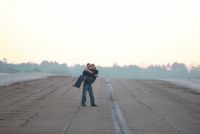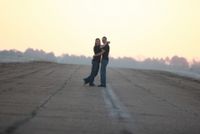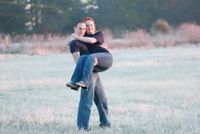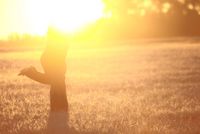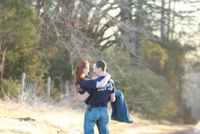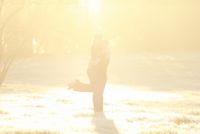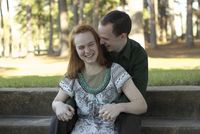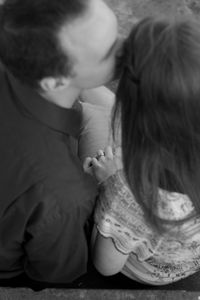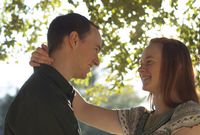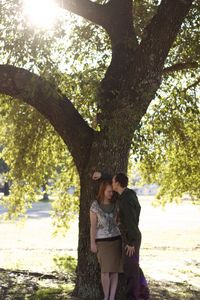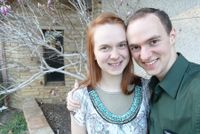 Engagement photos courtesy of Joy Roberts